Lewis's Swablu
ルイスのチルット Ruisu's Tyltto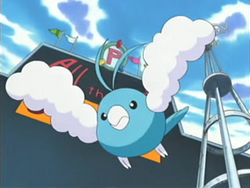 Lewis' Swablu
Caught at
Forest near Littleroot Town
Swablu
This Pokémon has not evolved.
| Voice actor | Japanese | English |
| --- | --- | --- |
| As Swablu | Unknown | Unknown |
A

†

shows that the move was used recently, unless all moves fit this case or there are fewer than five known moves.
Moves Improvised Edit
Cotton - Swablu releases balls of cotton at the opponent to distract them so Swablu can attack with more ease.
Lewis' Pokémon

On hand

With Professor Juniper

In training
Ad blocker interference detected!
Wikia is a free-to-use site that makes money from advertising. We have a modified experience for viewers using ad blockers

Wikia is not accessible if you've made further modifications. Remove the custom ad blocker rule(s) and the page will load as expected.